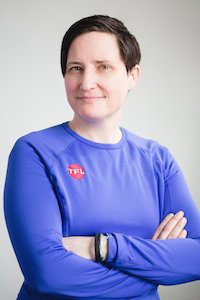 Dillon has been providing fitness services for individuals of all ages and experience for almost 20 years. She specializes in functional training, which involves training the body for the activities performed in daily life. Whether you are a runner, a triathlete, a non-athlete or a homemaker who wants to carry her children without injury, Dillon's approach to training and exercise will greatly improve your fitness and health.
Dillon completed her Fitness Specialist/Personal Training Certificate at Lake Washington Technical College in 2003. She is a Certified Health Fitness Specialist by the American College of Sports Medicine, which promotes and integrates scientific research, education, and practical applications of sports medicine and exercise science to maintain and enhance physical performance, fitness, health and quality of life.
Growing up in rural Montana, Dillon was a basketball and track athlete throughout high school. She completed a Bachelors of Fine Arts at Montana State University in 1996 while always finding time to mountain bike, ski, snowboard, rock climb, kayak, canoe, fish and skydive.
Since moving to Seattle, Dillon has competed in several triathlons in the Northwest and trained triathlete groups for Team Danskin. In 2006, she climbed Mt. Kilimanjaro and went on safari. In June 2009, she ran her first half marathon (Seattle Rock-n-Roll) and in December 2009, she ran her second half marathon in 2:02.
She is the owner of The Fitness Lab providing training services outside, online, at your home and Rival Fitness on Capitol Hill.
Contact Dillon