ROCKSTAR OF THE MONTH
OCTOBER 2015
As you may have noticed, we have many new faces at The Fitness Lab (67 faces, to be exact). These amazing women and men are participants in our 21 Day Fitness Challenge program.

We are so impressed with not only their initial commitment to their health and fitness, but their consistency and determination throughout the program. It's never easy to start a new fitness program, join a new gym, or get out of your comfort zone, so this month we're celebrating all the 21 Day Challenge participants. Keep it up guys, you're incredible!
Here's what the Challenge Participants are saying about the program!

"Great support from staff and established members." – Jolene Hartnett
"Being with a group in my age bracket, at all levels of fitness, encouraging each other with the support and instruction of amazing trainers! Feeling stronger after 1 week!" – Susan Lynch
"My energy level is UP!" – Christen Gladu
"Constant variety and getting to play with medicine balls, kettle bells and TRX suspension straps. Also the giant open garage door offering a tantalizing option to escape if needed. And of course THE COMMUNITY!" – Betsy Leto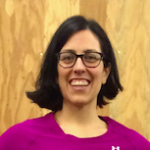 Through losing a significant amount of weight and gaining fitness, I have developed a love of fitness, healthy eating, and creating a fun-filled active life. When I'm not at The Fitness Lab, you'll find me doing Pilates, running, cooking, strolling around Greenlake, tromping through Discovery park, hiking in the mountains, and kayaking in the Sound. When the body is strong so much more is possible!