ROCKSTAR OF THE MONTH
AUGUST 2015
"I enjoy the people who attend classes at TFL. We share words of encouragement and sometimes commiseration when it has been a particularly challenging work out! It also gives me a chance to see my work out buddies on a regular basis. We keep each other honest about attending classes and trying to reach the perfect 10 every month."

Q&A with Pam

What are your favorite things to do?
Gardening, music and playing piano, going to movies with friends, and urban walks.
Where is your favorite place to eat?
My favorite place is at home with my husband. He is a fabulous cook and we enjoy trying out new menus and recipes together. But if I had to pick a restaurant I would say "Pair" – in Bryant / Ravenna area. I enjoy the small plates you can share with others. You get a taste of everything without over indulging.
Do you remember when you started our classes and why?
I enrolled in classes at TFL around 2 ½ years ago. I had been taking Pilates for about 3 years before then and realized I had reached a plateau. My friend Marianne and I decided to have the body fat analysis done at TFL. It was a bit of a shock for me when I got the results. We were told we could try an introductory class as well. Our first class was a combined class that Priscilla taught. That was a humbling experience. I did not know if I could manage the classes at TFL. But I knew it was the right sort of change I needed for my exercise routine. It was necessary to introduce more weight bearing and cardio exercises since post-menopausal changes in my body were making weight loss more challenging and increasing the risk of osteoporosis.
What are some health and fitness goals you have achieved since being here?
The biggest benefit has been a reduction in stress. I had been working at a very stressful job when I started at TFL. The classes had a definite positive impact on my ability to cope at work and to enjoy my personal life when NOT at work. I also have managed to reach a goal for weight loss and to keep it off over the past few years.
What is a quote that you live by?
I have had family members with severe health issues over the years. One thing that I am learning is that you do need to take care of yourself so you may be strong enough to help them. I am no longer viewing it as being self indulgent or selfish. It is an act of love for others and for yourself if you do take the time to look after your own health.
When I looked for a quote that matches that philosophy I came across this quote from Audrey Hepburn. I think she summarized it beautifully:
"As you grow older you discover you have two hands. One for helping yourself and the other for helping others." – Audrey Hepburn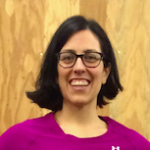 Through losing a significant amount of weight and gaining fitness, I have developed a love of fitness, healthy eating, and creating a fun-filled active life. When I'm not at The Fitness Lab, you'll find me doing Pilates, running, cooking, strolling around Greenlake, tromping through Discovery park, hiking in the mountains, and kayaking in the Sound. When the body is strong so much more is possible!