ROCKSTAR OF THE MONTH
JULY 2015
"I love the Fitness Lab because of the small classes and feeling welcome when I miss a few weeks."

Q&A with Rebecca

What are your favorite things to do?
Traveling to new (and old) places, anything in or around water, riding my bike, and cooking delicious meals and trying new recipes.
Where is your favorite place to eat?
Walrus & Carpenter – I love oysters!
When did you start training with us and why?
I started @ TFL a few months into my MBA program because I wanted to fight off the "freshman fifteen"…  just graduated this month and can proudly say I not only fought off the 15 but I actually lost 15 too!
What are some health and fitness goals you have achieved since being here?
I'm getting ready to run my 3rd Sprint Tri and am close to moving up to an Olympic
What is a quote that you live by?  
I think I saw this @ TFL – "Do something today your future will thank you for." I always think of this when I don't want to work out!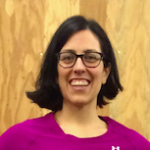 Through losing a significant amount of weight and gaining fitness, I have developed a love of fitness, healthy eating, and creating a fun-filled active life. When I'm not at The Fitness Lab, you'll find me doing Pilates, running, cooking, strolling around Greenlake, tromping through Discovery park, hiking in the mountains, and kayaking in the Sound. When the body is strong so much more is possible!