March 2017
I love the positive energy and the feeling of community.  It's hard to get up for a 6 am class, but I know that friendly smiles will be there to inspire me.
Q&A with Amy
Can you tell me 3 or 4 of your favorite things to do?
I enjoy playing music with friends and writing songs.  I sing and play guitar and mandolin.
Where is your favorite place to eat?
I'm a taco truck junkie.
Do you remember when you started our classes and why?
I started going to the Fitness Lab in September of 2015 because I was ready to do more than just cardio after recovering from an injury.
What are some health and fitness goals you have achieved since being here?
I'm definitely stronger.  When I'm attending classes regularly, I feel happier and more fit.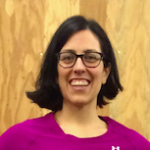 Through losing a significant amount of weight and gaining fitness, I have developed a love of fitness, healthy eating, and creating a fun-filled active life. When I'm not at The Fitness Lab, you'll find me doing Pilates, running, cooking, strolling around Greenlake, tromping through Discovery park, hiking in the mountains, and kayaking in the Sound. When the body is strong so much more is possible!