October 2016
"Thanks to the variety of exercises in each class, great instructors and convenient class times, this is the first time I've ever been able to consistently stick to a fitness routine! Thanks, Fitness Lab!"

Q&A with Chelsea
Can you tell me 3 or 4 of your favorite things to do?
Traveling, dining out/trying new restaurants, crafting, spending as much time as possible outside.
Where is your favorite place to eat?
Revel in Fremont.
Do you remember when you started our classes and why?
I started at the Fitness Lab in January 2016 after months of searching for a workout routine that I could stick to. I wanted to feel healthier and stronger, and not be out of breath when I ran to catch the bus.
What are some health and fitness goals you have achieved since being here?
I feel stronger and more in shape than ever before.
What is a quote that you live by? 
"Never stop exploring."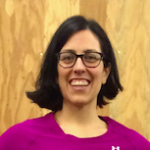 Through losing a significant amount of weight and gaining fitness, I have developed a love of fitness, healthy eating, and creating a fun-filled active life. When I'm not at The Fitness Lab, you'll find me doing Pilates, running, cooking, strolling around Greenlake, tromping through Discovery park, hiking in the mountains, and kayaking in the Sound. When the body is strong so much more is possible!