February 2019
Q/A with Lydia
What are 3 or 4 of your favorite things to do?
My favorite things are eating, drinking, and traveling… to new places where I can eat & drink!
My favorite place to eat:
In Seattle, my go-to is Dough Zone Dumpling House. I'm also a big fan of Pestle Rock, Asadero, Ballard Pizza Company (not necessarily in that order).
Do you remember when you started our classes and why?
According to WellnessLiving, I started in September of 2016. I wanted something to help offset all the eating & drinking, and would be the right amount of challenging. I've done crossfit in the past and wanted something that would be less injury, but still functional and varied.
What are some health and fitness goals you have achieved since being here?
I've been able to lower & maintain healthy cholesterol and blood sugar levels, despite not changing my diet (see favorite things above). I've also noticed a lot more endurance while I'm hiking and skiing. Plus, I'm just happier and have more energy overall when I move around!
What is a quote that you live by?
It seemed like a good idea at the time…."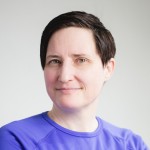 Certified personal trainer and owner of SOMA TRAINING. I can't imagine a better job – every day, I get to help people improve their lives and achieve things they never thought possible. To see the gains in strength (I just watched a woman who used to struggle with knee push-ups rip off 20 standard push-ups) and confidence that come with fitness is truly inspiring.