July 2017
I love the personal feel of the gym.  I like getting to know the people I work out with and the trainers.  The trainers know when I need a push because they know what weight I am capable of using.
Q/A with Erin
Can you tell me 3 or 4 of your favorite things to do?
When I am not at the Fitness Lab or hanging out with Kristina, I love to read, travel, try new restaurants and listening to Backstreet Boys.
Where is your favorite place to eat?
My favorite place to eat is Dough Zone.  Their dumplings are amazing!
Do you remember when you started our classes and why?
I joined in the Fall with one of the challenges with Kristina because I needed to shake up my fitness routine!
What are some health and fitness goals you have achieved since being here?
I am most proud of the fact that I can finally do real push ups…multiple in a row!!!!!  I feel stronger and I love when I go up in weights!
What is a quote that you live by?
"Losers make excuses, winners make it happen." The wise Bubba Sparxxx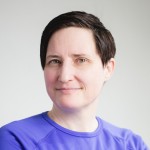 Certified personal trainer and owner of SOMA TRAINING. I can't imagine a better job – every day, I get to help people improve their lives and achieve things they never thought possible. To see the gains in strength (I just watched a woman who used to struggle with knee push-ups rip off 20 standard push-ups) and confidence that come with fitness is truly inspiring.